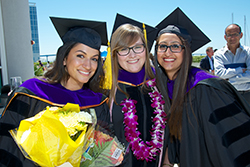 May 2014 Graduates at Commencement Ceremony

Photo Courtesy of California Western School of Law
California Western Graduates Ready to Take Their Places in the Legal Profession
Class of 2014 is a close-knit, supportive group and help each other succeed
SAN DIEGO, May 2, 2014 - Nearly 200 graduates walked across the stage and into their futures as California Western celebrated its 107th Commencement Ceremony on May 2 at the San Diego Convention Center.

"It's a new journey beginning today," said graduate Brittney Dobbins. "It's going to open new doors."
"It's the end of school, the beginning of real life," said another graduate, Kristen Barton. "It's exciting and terrifying at the same time."
"It's the beginning of a new chapter in my life and I look forward to serving people with my degree," said graduate Adriana Quintero.
"You are profession-ready," Vice Dean William Aceves told the new lawyers, reminding them of the tradition San Diego's oldest law school has maintained since 1924. "For 90 years our graduates have pushed themselves to succeed and have carried the California Western name forward in their work."

The main commencement speaker was Professor William C. Lynch, who has been a California Western professor for 36 years, and a U.S. Navy Judge Advocate General before that.
"If you're worried about the future, don't be," Lynch told the new graduates. "The future may look cloudy, but clouds have a way of clearing up and introducing you to a bright, sunlit day."
By way of illustration, Lynch told three inspiring stories about succeeding in the face of obstacles, including one about his former student who put together an "appalling" opening statement in class, then worked hard and was voted the outstanding advocate in the class. Lynch says that student went on to become a district attorney.
Lynch spoke of another student who as a lawyer stood up and challenged a judge who was about to rule without hearing his client's side of the story. Even though the attorney lost the motion, the client on the other side who owned a construction equipment rental company, said, "I'm offering you a job based on your performance in the courtroom because you were willing to stand up to a judge and tell him what his job was." When the company later went public, Lynch says the attorney "overnight became a millionaire."
And Lynch told a story about his own career in the U.S. Navy when he was about to resign over what he felt was shabby treatment—but stayed the course and it led to a new opportunity that in turn led him to join the faculty at California Western.
"Go out into the world and embrace life," Lynch said. "Do not hold back, do not be fearful, and do not be too careful."
"There is something awesome about watching people accomplish their goals," said student commencement speaker Sean Elo. "We were told that going to law school was a bad idea. There was no shortage of naysayers, but we did it anyway and I am so glad we made that choice."

Elo reflected the pride and regard for each other the class of 2014 possesses – they went through it together and triumphed together.
"This is a great group of people that I'm with today," said graduate Mike Cosgrove.
"We're proud of all our classmates," said Carlie Bouslaugh of her fellow graduates. "We did it!"
"This means everything," said Lauren Foley. "I'm very excited to see what the future holds not only for me, but for the rest of my classmates."
"I am so overwhelmed with emotion," said Priscilla Salgado after the ceremony. "I feel like my dreams are finally starting to come true and I can't wait to study for the bar, study hard, pass it the first time and get in the courtroom."