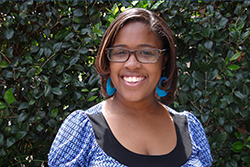 1L Lauren-Nicole Carter is awarded the prestigious Peggy Browning Fellowship

Photo Courtesy of California Western School of Law
California Western First-Year Student Awarded Prestigious Public Interest Fellowship

Lauren-Nicole Carter has a passion for labor and employment law
SAN DIEGO, May 8, 2014 - California Western first-year student Lauren-Nicole Carter has been awarded a 10-week summer fellowship by the Peggy Browning Fund, a prestigious honor.

Carter will serve her fellowship working at Los Angeles Black Worker Center Project in Los Angeles.
"The application process is highly competitive, and the award was based on her outstanding qualifications," according to a Peggy Browning Fund official.
In 2014, the Peggy Browning Fund will support nearly 70 public interest labor law fellowships nationwide. With hundreds of applicants from more than 140 participating law schools, securing a Peggy Browning Fellowship is not an easy task. Peggy Browning Fellows are distinguished students who have not only excelled in law school but who have also demonstrated their commitment to workers' rights through their previous educational, work, volunteer, and personal experiences.
According to the official announcement from the Peggy Browning Fund, "Lauren-Nicole's desire for justice came from watching her single-parent mother work more than 40 hours a week without just compensation. Her passion led her to relocate from Washington, D.C. to attend California Western School of Law, with a concentration in Labor and Employment Law"
"I am extremely honored to be a Peggy Browning Fellow," said Carter. "Especially as a 1L, this is the stepping-stone to all future internship and job opportunities. I was ecstatic to have the opportunity to have first-hand experience in an employment and labor law in my fellowship this summer."
Before attending law school, Carter worked as a facilities coordinator at Johns Hopkins University's Carey Business School. At California Western, she is a member of Public Interest Law, Entertainment and Sports Law, and the Black Law Student Association.
About the Peggy Browning Fund
The Peggy Browning Fund is a not for-profit organization established in memory of Margaret A. Browning, a prominent union-side attorney who was a member of the National Labor Relations Board (NLRB) from 1994 until 1997. Peggy Browning Fellowships provide law students with unique, diverse and challenging work experiences fighting for social and economic justice.