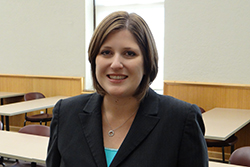 Kristina Fretwell '14 writes about the Lance Armstrong doping scandal and its effects on pro cycling

Photo Courtesy of California Western School of Law
Recent Graduate Kristina Fretwell '14 Publishes Article on the Lance Armstrong Doping Scandal, Effects on Pro Cycling
SAN DIEGO, May 8, 2014 - Kristina A. Fretwell '14 recently had an article published in the Winter 2014 edition of the Pace University School of Law journal, Pace Intellectual Property, Sports & Entertainment Law Forum (PIPSELF). The article is titled "Shutting Down the Pharmacy on Wheels: Will Lance Armstrong's Admission Impact the Practice of Doping in Professional Cycling?"
Fretwell, who was born and raised in Phoenix, spent ten years working as a staffer for the Arizona Senate after she graduated from the University of Arizona with a degree in political science. She also worked as a lobbyist and decided to go to law school because she was looking for a more stable career.
In her 3L year at California Western, Fretwell won the top prize in the New York State Bar writing competition for her article on pet food regulation in the U.S. She also developed an interest in sports law as well as the issue of doping scandals in the sport of pro cycling.
She spoke with us recently:
Question: How did this article came about?
"I wrote the article for my Sports Law class during the spring semester of last year. My husband is a cyclist and he introduced me to the sport and since then I've been fascinated by all of the doping scandals. I decided to take a stab at exploring it for my final practicum report. I shared it with one of my supervisors at my judicial externship who is also interested in cycling and she encouraged me to send it out for publication, so I did and it got picked up by PIPSELF."
Q: How did you go about researching it?
"I started the project by looking at the history of doping in professional sports and went from there. I was really unaware of how widespread the practice was until I started doing some research. At first, the focus of the paper was going to be Lance Armstrong but I decided to broaden its scope and include some other notable scandals that I learned about. The research for this article was a little different because it's not a traditional law topic. I used a bunch of "non-traditional" sources, such as newspapers and cycling journals. I was also writing it at a really active time, as the Lance Armstrong story was developing and there was so much information. I really enjoyed working on it, although things were constantly changing and evolving."

Q: How do you feel about it being published in the Pace Intellectual Property, Sports & Entertainment Law Forum?
"I was excited to receive a publication offer from PIPSELF. It's a relatively new journal that focuses on hot topics in sports and entertainment law. I really enjoyed their editorial staff and felt very comfortable working with them to get it ready for publication. Pace University is a great school too, so I was really happy to move forward with them and be a part of their journal."

Q: What are you doing post-bar exam? What are your career objectives at this point?
"So far, I'm enjoying a little bit of free time! I took the bar exam in February and am working as a post-bar law clerk at Mazzarella Law Group. Eventually, I would love to get involved in sports law or maybe soft intellectual property, like trademarks and copyright work.