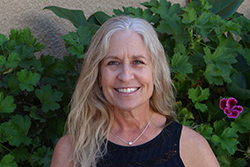 California Western Alumni Affairs Director Lori K. Boyle

Photo Courtesy of California Western School of Law
California Western Alumni Affairs Director Lauded by San Diego Legal Community
San Diego County Bar Association recognizes Lori K. Boyle with Distinguished Citizen Award
SAN DIEGO, April 11, 2014 - The San Diego County Bar Association (SDCBA) this month recognizes California Western School of Law Alumni Affairs Director Lori K. Boyle with its 2014 Distinguished Citizen Award, in recognition of her many contributions to San Diego's legal community.
Boyle manages California Western's alumni outreach programs, including the Alumni Association and its board of directors, regional alumni clubs, distinguished alumni of the year awards, annual alumni weekend reunion celebration and golf tournament, volunteer management and development, alumni stewardship, and recognition events.
She and other service award recipients will be recognized on April 30 at the annual Law Week Luncheon at the Westin Emerald Plaza. Service Award recipients are nominated by the San Diego legal community and reviewed and selected by the SDCBA Awards Committee, with the approval of the SDCBA Board of Directors.
"Lori's contributions to California Western and her work with our alumni community are well known to her colleagues and friends," said President and Dean Niels B. Schaumann. "It is extremely rewarding to see the broader legal community recognize her service."
In his nomination of Boyle, San Diego County Deputy District Attorney and Past President of the California Western Alumni Association Board of Directors Christopher M. Lawson '05 described her contributions to the community through fundraising and alumni engagement.
"Lori's drive and vision helped to develop California Western's alumni base through the creation of alumni events and a 35-person alumni board that raises money for charity and attempts to find ways to give back to the legal community. These programs use the donations to make a positive impact on San Diego," Lawson said.
During her tenure at California Western, Boyle and her alumni volunteers have raised tens of thousands of dollars for deserving charities throughout San Diego, including Street Law San Diego, the California Innocence Project, and the City Heights Community Law Project.