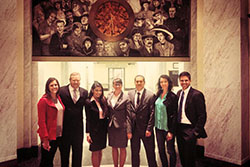 From left: Billie R. Gibson (Coach), Shane T. Lauritzen, Mary Naoom, Dayna Ellsworth, Micheal D. Brenn, Michelle M. Ryle (Coach), and Corey C. Garrard (Alternate).
Photo courtesy of California Western School of Law
California Western Trial Team Wins Regional Competition in Seattle
Will compete in national American Association for Justice competition in April
SAN DIEGO, March 24, 2014 - Four California Western students took the top spot at the American Association for Justice's (AAJ) regional Student Trial Advocacy Competition in Seattle, Wash. the weekend of March 21-23. The team of Distinguished Advocates earned the right to advance to the national AAJ competition next month.
The team of second-year students Dayna Ellsworth, Mary Naoom, Shane T. Lauritzen, and Michael D. Brenn bested a team from the University of San Diego School of Law in both the semi-finals and finals of the competition. They were coached by former distinguished advocate competitors Billie R. Gibson '10 and Michelle M. Ryle '13.
A second team from California Western, 2L Micaela De La Cerda, 2L Marlena M. Balderas, 3L Patricia M. Wilson and 3L Kara A. Ritter, finished 10th in the competition. They were credited by the team that won the competition for helping them to succeed.
"This win really came from a team of eight students, not just the four students who were in the finals," said Ellsworth. "Without our other California Western team to scrimmage against, to push us to be better every week, and to support us, we would have not made it past the first round." They also give credit to 3L Corey C. Garrard, who was the alternate for the first team, for jumping in at the last minute and being ready to compete if needed.
"We wouldn't have gotten this far without our two coaches Gibson and Ryle, and without the assistance of the other two coaches from our second AAJ team, Jason M.Conge '10, and Lindsey Willard '13, as well as everyone on the second team," added team member Naoom.
"The team really came together," said Lauritzen. "There were no weak links. If someone dropped a bit, another team member just picked them up. It was amazing."
"This is literally a team of destiny," said faculty advisor Professor Mario G. Conte, of the group that overcame several obstacles in order to compete. "They exemplify what this program is all about, and this goes to both teams that competed in Seattle."
They are looking forward to the national AAJ competition in Santa Monica, April 10-13.
About the Distinguished Advocates program
The Distinguished Advocates program is part of California Western's Moot Court Honors Board. It is well-known nationally for the successes of its competition teams, but also for its consistency in developing individuals that stand out in the post-graduation applicant pool, and ultimately go on to become great attorneys. The program has three categories; trial teams, appellate teams, and alternative dispute resolution teams.