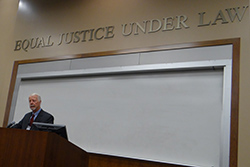 Retired Judge Vaughn Walker Speaks at California Western on His Landmark Proposition 8 Decision
Photo Courtesy of California Western School of Law
Equal Justice Under Law: Judge in Landmark Marriage Equality Case Speaks at California Western
Judge Vaughn Walker highlights the American Constitution Society's annual reception

SAN DIEGO, January 31, 2014 - Standing beneath the words, "Equal Justice Under Law," in a year marking the 50th anniversary of Brown v. Board of Education decision and the 60th anniversary of the passage of the Civil Rights Act, retired U.S. District Court judge Vaughn R. Walker spoke to a large and enthusiastic audience at California Western School of Law.

"These were momentous events in our history," Walker said. "These events have changed the shape, the nature, and the color of our society and our country—all very much for the better."

Walker himself issued an historic ruling on civil rights as chief judge of the U.S. District Court for Northern California when he struck down California's voter-approved Proposition 8 that outlawed same-sex marriage.

Walker's keynote address was the highlight of the American Constitution Society San Diego Lawyer Chapter's fifth annual reception, which featured welcoming remarks from San Diego's Interim Mayor Todd Gloria.

"We are a nation of equals," Gloria said. "We are here tonight with someone who entered another passage in that long history of equal protection with the presence of our great judge Vaughan Walker."

In a fascinating inside account of the Proposition 8 trial, Walker said that one strategy of the two attorneys arguing against Proposition 8 was to get the trial over with quickly to bring the case to the U.S. Supreme Court "before Justice John Paul Stevens retired." It was not to be. However, Walker could see the central issue of the case before him quite clearly.

"We were able to identify the issue right up front that turned out to be the turning point in the Proposition 8 case," Walker said. "The proponents of Proposition 8 did not have standing."

Walker's verdict against the Proposition 8 proponents is viewed as a major victory for marriage equality.
"Marriage equality, although only partially won around the country today, is certainly on a very promising trend," Walker said. "The battle is by no means over. There is a lot of work to be done. But it is remarkable how rapidly the scene is changing in this regard."
While Walker has received both praise and condemnation for his Proposition 8 decision, he noted that it was upheld by the U.S. Supreme Court.
"For once, on a constitutional issue, the district judge had the last word," Walker said.