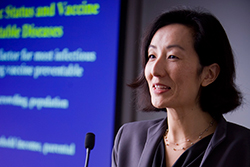 Professor Nancy S. Kim Has been elected to The American Law Institute (ALI)

Photo Courtesy of California Western School of Law
Professor Nancy S. Kim Elected to American Law Institute
"I am particularly pleased to join ALI at this time as it is currently working on two projects of great interest, privacy and consumer contracts," said Kim. "The decisions the organization makes will shape the law for years to come."
Of the 46 members elected to the ALI this year, Kim was the only legal professional from San Diego named to the prestigious group. She joins fellow inductees Tom Campbell, Dean of Chapman University School of Law, Loyola Law School Professor Alan Ides, as well as judges, legal academics, and attorneys from around the nation.
"We thank the American Law Institute for recognizing Professor Kim's contributions to legal scholarship and the development of law and policy in emerging areas," said President and Dean Niels B. Schaumann.
Professor Kim joins Dean Emeritus Steven R. Smith, Associate Dean Barbara J. Cox, Vice Dean William J. Aceves, and Professor Laura M. Padilla, who are also members.
About Professor Kim
Kim joined the California Western faculty in the fall of 2004. She has taught as a visiting faculty member at The Ohio State University, Moritz College of Law, Rady School of Management at UC San Diego, and Victoria University in Wellington, New Zealand.
Prior to joining the faculty at California Western, Professor Kim was Vice President of Business and Legal Affairs of a multinational software and services company. She has worked in business and legal capacities for several Bay Area technology companies and was an associate in the corporate law departments at Heller, Ehrman, White & McAuliffe in San Francisco, and Gunderson, Dettmer in Menlo Park.
While in law school, Kim served as Associate Editor of the California Law Review and Berkeley Women's Law Journal. After graduating from law school, she was a Women's Law and Public Policy Fellow at Georgetown University Law Center and a Ford Foundation Fellow at UCLA School of Law. She is a member of the State Bar of California and a past recipient of the Wiley W. Manuel Award for pro bono services for her work with the Asian Pacific American Legal Center.
Kim currently serves as Chair of the section on Contracts and as a member of the executive committee of the section on Commercial and Related Consumer Law of the Association of American Law Schools. She is a contributing editor to the Contracts Law Prof Blog, the official blog for the AALS Section on Contracts. Her scholarly interests focus on culture and the law, contracts, women and the law, and technology. Her most recent book, Wrap Contracts: Foundations and Ramifications, examines how contracts control consumer behavior, especially online, and what this means for society.
Preparing Lawyers for the Future
California Western is committed to a practical application of legal theory and seeks to influence the development of the law in existing and emerging areas. Through its many clinical and experiential opportunities for students, California Western is helping shape lawyers for the future.
American Law Institute
Founded in 1923, the membership of the American Law Institute includes more than 4,000 lawyers, judges, and law professors. By participating in the Institute's work, its distinguished members have the opportunity to influence the development of the law in both existing and emerging areas, to work with other eminent lawyers, judges, and academics, to give back to a profession to which they are deeply dedicated, and to contribute to the public good.