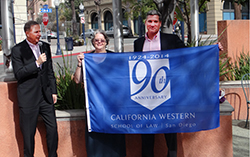 President and Dean Niels B. Schaumann (left) at the Raising of the 90th Anniversary Flag

Photo Courtesy of California Western School of Law
California Western School of Law Celebrates 90th Anniversary
Honoring the past, celebrating the present, preparing lawyers for the future
SAN DIEGO, January 21, 2014 - California Western School of Law celebrates its 90th anniversary in 2014. Throughout the year San Diego's oldest law school will recognize 90 years of excellence, including the many successes of its programs, graduates, faculty, and staff.

Dean Niels B. Schaumann was the master of ceremonies as the 90th anniversary flag was raised over the campus for the first time on January 21, kicking-off the year-long celebration.
"For 90 years, our graduates have pushed themselves to succeed, have outperformed expectations, and have nobly served the cause of justice, bringing great credit to the California Western name through their work," said Schaumann.
"This celebration gives us an unparalleled opportunity to talk about those graduates—those lawyers, judges, teachers, and many others—who have taken what they learned and used it to serve humanity in the highest traditions of the profession."
From its earliest days as an evening bar preparation program at San Diego High School in the 1920s, California Western School of Law has focused on ensuring that its graduates are ready for the practice of law.
"While others are just now talking about 'practice ready,' we've been doing precisely that throughout our history," said Schaumann. "Our independence allows us to innovate. We've been at the leading edge of clinical education from its earliest days. We continue to focus on building lawyers for the future, lawyers who can use the law to solve problems we haven't even thought of yet."
California Western School of Law has witnessed sweeping changes in legal education and law practice as it has grown over the past 90 years. Balboa Law College, as it was then called, grew into Balboa University—helping returning GIs build new careers—and later into California Western University, perched on a Point Loma cliffside from 1962 to 1973. The law school moved to its present location in downtown San Diego in 1973 and in 1975 became independent, which it remains today.
Throughout the years, the law school has consistently adapted its approach to reflect the changing needs of the legal profession. It was among the first in the nation to launch an intensive clinical program—which now includes a full-trimester internship program placing students in law offices around the world. It offers more than a dozen clinical and experiential programs led by full-time faculty and members of the local legal community.
California Western launched one the nation's first international law journals in the 1970s—contributing to a greater understanding of the rule of law abroad—and was among the first to launch required skills courses, and to offer a post-graduate incubator program for solo practitioners.
Several special events planned for 2014 demonstrate the school's commitment to its students and alumni, and to a greater understanding of the law. Highlights include:
• March 14: Inaugural Air & Space Law Symposium, bringing together scholars in air and space law and leaders in the aerospace industry for an exploration of issues surrounding the growth of unmanned aircraft
• September 27: Distinguished Alumni Awards, a new program recognizing and honoring outstanding California Western graduates sponsored by the California Western Alumni Association and held in conjunction with annual alumni reunion events
• November 10: Inaugural San Diego interschool trial competition, sponsored by the American Board of Trial Lawyers, a winner-take-all competition between teams from California Western, Thomas Jefferson School of Law, and USD School of Law
California Western School of Law invites the San Diego community to help celebrate its 90th anniversary, its proud achievements, and its bright future.