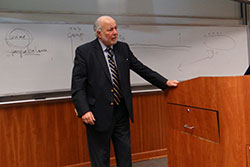 Judge Juan Guzmán Presents
The 2014 S. Houston Lay Lecture

Photo Courtesy of California Western School of Law
Former Chilean Judge Tells Compelling Story of Pinochet Prosecution
Juan Guzmán delivers prestigious S. Houston Lay Lecture at California Western
SAN DIEGO, January 16, 2014 - "I really was afraid I might be shot," says former Chilean judge Juan Guzmán of his fears when he was selected to prosecute Chile's notorious dictator Augusto Pinochet. Guzmán told his story as part of the S. Houston Lay Lecture at California Western on January 16. But fear turned to courage when he happened to watch the movie "High Noon" one day and saw Gary Cooper's character stand alone to face four men who came to kill him. "That did something for me," he says. "I felt brave."
"He stared down a dictator," said Professor James M. Cooper, director of California Western's Chile Summer Program. He introduced Guzmán, who has worked closely with the law school's students as interns. "In the face of risk to his safety, his career, and his reputation, he helped demonstrate the important role that the judiciary plays in protecting human rights and ensuring the rule of law."
While he faced threats against himself and his family during the Pinochet prosecution, Guzmán said, "I had to take the case. I was an ordinary man who had to do a job."
He shared the chilling and inspiring story of bringing the case against the man responsible for many murders and disappearances. As Pinochet's death squads roamed the country, Chile's judges looked the other way and there was no justice for victims.
"Disappearances, mass assassinations, mass torture—these terrible crimes were carried out with absolute impunity," Guzmán said. "This was supported by the judiciary—we lost our dignity."
One of the biggest legal hurdles Guzmán had to clear was Pinochet's immunity from prosecution due to his self-declared status as both a Senator for Life and President for Life. Guzmán says he also had to find creative ways around the amnesty Pinochet's junta declared for the crimes they committed, as well as the statute of limitations on the kidnappings of thousands of Chileans who disappeared during the regime.
Using a white board, Guzmán drew a timeline showing that although most of the kidnappings were committed during the period of amnesty, the crime continues to the present if the victim has not been found, a concept he describes as "a perpetual crime that continues to this day where the statute of limitations is not applicable."
Though Pinochet was indicted for alleged crimes against humanity, he died before he could be brought to trial.
"lt is a divided country," Guzman said of Chile today. "It is going to be very difficult to finish with this period of vengeance, hatred, and the feeling of injustice."
Guzmán's audience of students, faculty, and staff was clearly inspired by his lecture.
"You are a model of integrity and personal courage," Dean Niels B. Schaumann said to Guzmán in his closing remarks. "It underscores the rule of law in a democracy."
"From the beginning to the end his story was just compelling," said 1L Thao Pham.
"He chose to uphold justice instead of trying to just survive during a time that it was dangerous to go against Pinochet," said 2L Celene Alfaro. "I think it's a good lesson for us since we are aiming to uphold justice."
"It was just amazing," said 2L Suzanne Schmidt. "I feel so honored to hear him and to have this opportunity."
"Judge Guzmán is one of the heavyweights in international human rights law," said Cooper. "His presentation, like his career, inspired people, young and old, in the legal profession and outside it, that no one is above the law."

About the S. Houston Lay Lecture
The S. Houston Lay Lecture is named for the late Professor S. Houston Lay, who pursued a distinguished career with the U.S. Department of State, the American Bar Foundation, and California Western School of Law, where he taught international law courses and founded the California Western International Law Journal. Past speakers include U.N. Undersecretary-General Brian Urquhart, Professor Chalmers Johnson, and Richard Goldstone, former Justice of the Constitutional Court of South Africa.