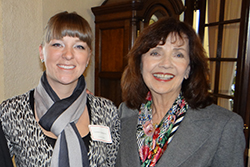 New First-Year Student Lyndsie Salsberry with Hon. Judith Haller '75

Photo Courtesy of California Western School of Law
California Western Welcomes January 2014 Class
More than 40 students join diverse class from all over the United States
SAN DIEGO, January 3, 2014 - "This is the first day of your legal career," says Vice Dean William J. Aceves, welcoming California Western's Spring 2014 class on Friday, January 3.

"This is an exciting time to be at California Western," he says, referring to the law school's 90th anniversary this year. "At California Western, our graduates are profession ready. Your legal education here combines practical hands-on skills with experiences so you can hit the ground running when you graduate."
"Today's program is designed to help calm some of the fears and worries that you may have," says Assistant Dean for Admissions Traci D. Howard to the 41 new students from all over the United States. Thirty-nine percent identify themselves as racially and ethnically diverse. More than a quarter of the students are from outside California, and there are six students from abroad, including Asia, Africa, the Mideast, and Europe. "We want to make you feel welcome, to get the first day of your legal career started off right," says Howard."
"Your professional reputation starts today," the students hear from Assistant Dean for Student and Diversity Services Susan Garrett Finster, as she acquaints them with all of the services and resources they will have as first-year students.

"I'm energized! I'm so ready for this now!" says new 1L Katherine Garcia, an anthropology major from the University of Colorado who is raising a family.
"It's not as intimidating as I thought it was going to be," says Will Hopkins from Chapman University, who is interested in becoming a prosecutor. "I have a little bit of nerves going on but mostly I'm excited to get started."
"Reality will set in but, right now I'm a little bit in disbelief," says Whitney Jenkins, a graduate of Cal State Fresno. She is most excited to hear about the law school's California Innocence Project. "That is why I applied to California Western."
"I'm really excited to start class," says Ian Roven, a UC Santa Barbara graduate, who wants to use his legal career to "build bridges between different communities and cultures."

Roven and the other students don't have to wait long for their first class. Professor William C. Lynch starts them off with a mock class in Torts, to give them a taste of what a law class is really like.
Students hear about the importance of civility and professionalism from the Hon. Judith L. Haller '75, Associate Justice of California's 4th District Court of Appeal.
"Those concepts matter because if you look at the most successful attorneys in our country they all have different talents but they have one thing in common: they conduct themselves civilly and they conduct themselves professionally," says Haller.

She then administers California Western's Oath of Professionalism to the students, telling them, "I'll see you in three years to swear you in to the bar."
California Western is one of only 11 law schools in the country that have a January start date, and offers the students the kind of flexibility in their schedules that works best for their life circumstances.
According to Aceves, the law school's mission is to help students become top-notch lawyers who are prepared to meet the demands of the legal profession, and who have satisfying and rewarding careers.

"Our graduates are successful for one very simple reason: we train our students to be lawyers," Aceves says. "Your first year of classes will develop your analytical skills. We'll train you to start thinking like a lawyer. Your upper division classes will refine these skills and complete your transformation from students to lawyers. In a couple of weeks you will probably hear comments from family and friends – 'oh my gosh, you're starting to talk like a lawyer.' When that happens you'll know that you're on the right path."

"The orientation itself was overwhelmingly warm and welcoming," says Lyndsie Salsberry, a graduate of UC San Diego. "I know it's going to be a tremendous amount of work, but the faculty did a wonderful job of explaining the plan and emphasizing their desire for my success."
"I've wanted to be a lawyer for a long time," says Jason Mathews, an entrepreneur who wants to study international trade law. "I'm very excited and I'm really looking forward to completing the first year!"