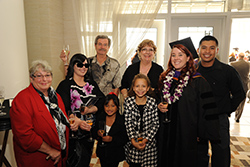 New California Western Graduate Allyson E. Calvird and family

Photo Courtesy of California Western School of Law
More Than 60 California Western Graduates Celebrate December Commencement
Hon. Fern Fisher inspires new attorneys to change public perception of law and lawyers
SAN DIEGO, December 16, 2013 - As the graduates march down the aisle in caps and gowns, the ballroom fills with cheers of joy and shouts of "you did it." More than 60 men and women received Juris Doctor and LL.M./M.C.L. degrees on December 16, as California Western School of Law celebrated its 106th commencement exercises
"I'm very excited," says Morgan Wazlaw as she lines up with her fellow graduates. "We've been looking forward to this day for a long time. It's a great achievement for all of us."
"I'm thrilled and excited," Kristina Fretwell says as she dons her black cap and gown. "This is the culmination of a lot of hard work and sacrifice."
"Today we all celebrate our accomplishment," says student commencement speaker Olga Steinreich as she welcomes her classmates.
"It took hard work, perseverance, and dedication." She gives a lot of the credit to the California Western faculty. "You took scared first-year law students and turned us into attorneys."
"All that hard work really pays off," says graduate Adam Radtke. "All those late nights amount to something."
"I'm thrilled to be done with law school," says Carrie Petersen who was on the fast-track and finished in just two years. "It was a challenge, but I'm proud of myself for getting through and finishing."
For LL.M./M.C.L. graduate Ivanne Tonnessen, this graduation ceremony is a unique experience. "We don't have graduation ceremonies in France," she says. "It is a big day!"
"For those before us waiting to cross this stage, commencement is not only an ending, it is also a beginning," Dean Niels B. Schaumann tells the more than 400 graduates, friends, family, and supporters of California Western. "While it is the end of the formal study of law, it is the first step on the pathway to long and distinguished careers. The next step: the Bar Exam," Schaumann added to laughter and maybe a few groans mixed in.
For many, bar study begins at 8:00 a.m. the day after graduation and it is very much on all of their minds.
"Congratulations for surviving the challenges of law school—phew!" says the Hon. Fern A. Fisher, the commencement speaker and Deputy Chief Administrative Judge for the New York City Courts, as she wipes her brow with mock exhaustion. Fisher is the Director of the New York State Access to Justice Program, an issue near and dear to her heart and fully embraced by the law school that conferred an honorary degree upon her.
"By graduating you've shown that you are made of all the right stuff," Fisher says. "I challenge you to use the fine education that California Western has provided you to bring a new energy and face to the legal profession and our legal system."

She notes that though Shakespeare's line, "kill all the lawyers," from Henry VI, "has haunted our profession for centuries, I urge you to make a difference in the negative perception of lawyers. First and foremost we must be a service profession. Instead of 'kill all the lawyers,' the public should want to hug all the lawyers."

The new graduates can't wait to get out there and practice law and they feel that California Western has prepared them well to work as attorneys.
"I feel ready," says Spencer Scott. "I'm ready to do it."
"I think the clinical internship program really prepared me to step into the first year associate's shoes," says graduate Christine Dixon.
"I definitely do feel ready," says graduate Rita Leong. "I got a lot of hands-on experience through the Clinical Internship Program and the Community Law Project, where I was able to work with a lot of clients. I feel these skills will really help me out when I become an attorney."
Jeff Walker definitely feels he is ready to practice law. "I'm ready to hit the ground running," he says.