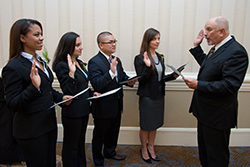 The Hon. Anthony J. Battaglia '74 administers the Oath of Professional Conduct to California Western graduates Nicole D. Allen, Shana J. Metzger, Kenny Nguyen, and Christina A. Shourds
State Bar of California Admits 135 California Western School of Law Graduates
California Western alumni vow to conduct their legal careers with honor and integrity
SAN DIEGO, December 3, 2013 - One by one they stand, as Vice Dean William J. Aceves calls their names. Each is a California Western graduate who passed the July 2013 California Bar Exam, considered one of the most difficult bar exams in the nation. They are being honored by the law school at a special breakfast where they take the Oath of Professional Conduct. Later, they will raise their right hand again and become official California licensed attorneys.
It's not only one of the proudest, most memorable days of their lives, it's a day when dreams come true.
"I wanted to be an attorney since I was a little girl and now, 20 years of schooling later, I can't believe that it's finally come to fruition," says Alessandra A. Lopez-Hutchison '13, who hopes to practice criminal defense law. "It's an absolutely amazing feeling–the best feeling I've ever had."
"It is the best feeling in the world, says Michaela P. Delacruz '13, who now plans to sit for the New York bar exam. "We've been waiting for a long time for this and I'm just so happy that it's finally here."
"It's been a long three years, but a really great experience," says Amir H. Azimzadeh '13,a new associate at the firm Stutz Artiano Shinoff & Holtz in San Diego. "It's great to see everybody back here celebrating."
"I'm just beyond excited. Hard work and preparation is what gets you here," says Michelle J. Stavros '13, who plans to practice immigration law. "I had to fight for everything since I was little and I made it."
"We are pleased to have so many of you here today, and we congratulate all of our bar passers on your accomplishment." says California Western President and Dean Niels Schaumann. "Our record of success on the bar exam is unparalleled in San Diego, underscoring our academic and clinical programs aimed at preparing for students for success on the bar and in practice."
Marcella O. McLaughlin '98, outgoing president of the San Diego County Bar Association, echoes Dean Schaumann as she speaks to the new attorneys. "The school gives you the tools to go out there and make whatever success you want happen. California Western produces leaders in this community. Four of the six most recent bar presidents are alumni."
"Today you walked in a law graduate and you will walk out as a lawyer," U.S. District Court Judge Anthony J. Battaglia '74, tells the new attorneys after administering the oath. "Use it as your moral compass. The oath is essence of the practice of law."
"An oath is something ancient and serious," according to Jeffrey D. Lewin '75, chairman of California Western's Board of Trustees, congratulating the bar passers on their tremendous accomplishment, while also reminding them of their professional responsibilities. "You're taking a sacred oath of professional conduct."
"I took the oath very seriously and I meant every word I said," Luis G. Bautista '13 adds after raising his right hand along with the other 135 California Western graduates being admitted to the bar.
"It still hasn't hit me yet, but it's something I'll never forget. I hope to remember throughout my practice," Ariela Izsak '13 says, summing up her feelings. "I love the profession and I love all that it means to be an attorney. I hope to uphold the oath as best as I can."
The ceremony was also meaningful for the faculty and staff of California Western. As they watch the graduates enter the next phase of their legal careers, they are proud of the part they played in these stories of success.