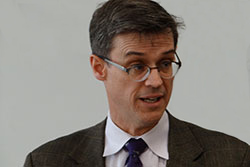 Kevin O'Reilly at the Speaker's Series on NAFTA: 20 Years Later
NAFTA: 20 Years Later: Kevin O'Reilly Kicks Off 11th Annual Speaker Series
State Department official says NAFTA has greatly benefited U.S. economy
SAN DIEGO, November 1, 2013 - - "We are not trading things together, we are building things together," says Kevin O'Reilly, the first guest lecturer of the 11th Annual California Western School of Law - UC San Diego Speaker Series, "NAFTA: 20 Years Later."

O'Reilly, Acting Deputy Assistant Secretary of State for Western Hemisphere Affairs, appeared October 30 at California Western School of Law. The speaker series is sponsored by the International Legal Studies Program at California Western School of Law and the Institute for International, Comparative and Area Studies at UC San Diego.

In the early '90's, the North American Free Trade Agreement (NAFTA) was a highly charged political topic and NAFTA was championed by then-President Bill Clinton.

The most famous phrase uttered about NAFTA came from the lips 1992 presidential candidate H. Ross Perot who said, "That giant sucking sound you hear is American jobs going south to Mexico."

"There is not a giant sucking sound," said O'Reilly. "What we have 20 years later is an agreement among the U.S., Mexico, and Canada that has given us a much more robustly productive North America."

O'Reilly relates that when President Clinton signed the enabling legislation for NAFTA, "he called it a defining moment. He didn't want to retreat. It was a decision to compete."
Since NAFTA went into effect, O'Reilly says there has been "a dramatic increase in trade between the U.S. and Mexico. It's off the charts. $1 billion a day and a substantial portion of that runs through San Diego County. And there is a $1 trillion a year in trade between all three countries.

"We should be grateful it's a tri-lateral agreement. It's about integrating markets," O'Reilly adds.
One striking example O'Reilly cites is a Canadian aircraft manufacturing company, Bombardier Aerospace, which makes the Learjet among other aircraft. The company has located manufacturing operations in Canada, the U.S. and Mexico—made possible by NAFTA—and its products are "North American products," not Canadian, American or Mexican.

As for the impact NAFTA is having on the American employment picture, O'Reilly says, "NAFTA is a creator of jobs and dynamic opportunities for many sectors of the U.S. economy."
"As we approach the 20th anniversary of the entry into force of NAFTA, it is time to take stock of the benefits and challenges that the trade agreement has brought," says Professor James Cooper, Director of the International Legal Studies Program at California Western. "Deputy Assistant Secretary O'Reilly's talk helped explain the economic benefits that have come with free trade on our continent. The next 20 years of trade should involve deeper integration but also better protection of labor and environmental rights in all three countries."
The next speaker in the series is Professor Jorge Durand of Princeton University, who appears at UC San Diego on January 15, 2014, to present his talk on "Free Trade Agreements and Migration." On March 12, The third speaker is Robert Blecker of American University presents "The Mexican and U.S. Economies Twenty Years after NAFTA and Six Years after the Crisis," also at UC San Diego.

Co-sponsors of the Speaker's Series are the American branch of the International Law Association and the Center for U.S. Mexico Studies at UC San Diego.
For more information, please visit the Speaker Series website.