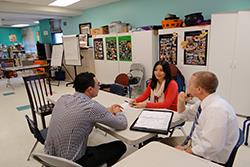 The City Heights Community Law Project holding a clinic at Rosa Parks Elementary School
City Heights Community Law Project Receives Grant from Price Family Charitable Fund
Grant expands free legal services to residents served by clinic
SAN DIEGO, October 15, 2013 - The Price Family Charitable Fund granted $15,480 to California Western School of Law's City Heights Community Law Project and Access to Law Initiative community law office.
The City Heights Community Law Project (CLP) offers free legal information and referrals to students and parents at three designated school sites; Hoover High School, Monroe Clark Middle School, and Rosa Parks Elementary School. California Western students, volunteers, and staff work closely with social workers at the schools to provide comprehensive assistance to community members.
CLP works closely with the Access to Law Initiative (ALI), which provides affordable and pro bono assistance to people who lack access to legal services, while supporting California Western graduates who engage in solo or small firm practice or participate in a nonprofit entity.
"We are so pleased to have been awarded this grant," says Professor Janet Weinstein, faculty coordinator of the City Heights CLP. "We expect to be able to reach and serve many more City Heights residents. The particularly exciting aspect of this grant is that it solidifies the connection between the City Heights Community Law Project and the Access to Law Initiative. In the coming weeks we will be working on a plan to bring more ALI attorneys into City Heights so we can serve clients who may not have the ability to attend our school clinics."
According to Weinstein, Drew Lautemann '09, who serves as a supervisor on a limited basis, will now be able to devote more time to ensure the clinics are functioning smoothly so clients, students, and pro bono attorneys all have a satisfying experience. Veronica Ayesta, who helped launch the program, will be able to focus her volunteer efforts on community outreach and education.
Continuing Price Family Vision for City Heights
This gift expands Price Family Charitable Fund support for California Western's City Heights programs and the realization of philanthropist Sol Price's vision for the urban community.
"We support the valuable work that California Western's City Heights Community Law Project has provided the community," said Sherry Bahrambeygui, Executive Vice President of the Price Family Charitable Fund and a 1993 graduate of California Western School of Law.
Ensuring access to justice for all people is an important part of California Western's mission, and the program in City Heights is a vital part of that effort. In addition to the City Heights Community Law Project, the law school operates legal clinics in Downtown San Diego and Lemon Grove.