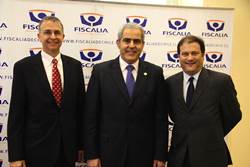 California Western President and Dean Niels B. Schaumann with Sabas Chahuán, Attorney General of Chile, and Professor James M. Cooper in Santiago, Chile
California Western Signs Cooperative Agreement with Attorney General of Chile
Parties will share training opportunities for legal officials and law students
SAN DIEGO, October 10, 2013 - This week, California Western School of Law President and Dean Niels B. Schaumann signed a convenio—or cooperative agreement—with Sabas Chahuán, the Fiscal Nacional (Attorney General) of Chile.
The agreement provides for greater cooperation between the law school and the office of the country's top prosecutor, a graduate of California Western's ACCESO Capacitación legal training program.
Chahuán will visit California Western in March for an on-campus event and visit with the offices of the U.S. Attorney General and Border Patrol in San Diego.
"This agreement formalizes a long-standing relationship with the Attorney General's office," says Schaumann. "For several years, they have hosted California Western interns, all of whom describe great experiences. We thank them for their support of our programs and the opportunities they provide our students to develop legal skills while gaining valuable international experience. I am excited about the opportunities for additional cooperation that this agreement provides."
For more than 15 years, California Western has worked with Chilean legal and government officials to promote the rule of law and facilitate the transformation from an inquisitorial to an adversarial criminal justice system, similar to that of the United States. Through Proyecto ACCESO and the Chile Summer Program, both under the leadership of Professor James M. Cooper, California Western faculty and students work with and learn from the country's legal officials and scholars.
"We have had the pleasure of hosting and collaborating with the Supreme Court President, Minister of Justice, and National Public Defender of Chile in recent years, and all of them participated in our ACCESO Capacitación training program," said Cooper. "We are proud to play a significant role in the legal transformation of what is the most politically stable and economically buoyant country in South America."
About Proyecto ACCESO
Proyecto ACCESO is a training and public education program headquartered at California Western School of Law. Founded in 1998, Proyecto ACCESO has trained thousands of judges, prosecutors, public defenders, justice ministry officials, private lawyers, law enforcement agents, and community leaders in North, Central and South America.