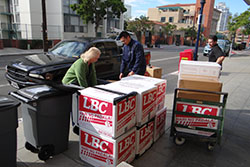 (Left to Right) Pam Tait, Edward Pamintuan and Trevor Young Load the Typhoon Supplies Collected During California Western's Emergency Relief Drive
California Western Collects Emergency Supplies to Aid Typhoon Victims in the Philippines
The Filipino community is grateful for the law school's response
SAN DIEGO, November 27, 2013 - Two pickup trucks pulled up in front of California Western School of Law on Wednesday, November 27, for loading of the items collected for the victims of Typhoon Haiyan/Yolanda in the Philippines— it was quite a sight.
"I am so proud of our California Western community," says Program Administration Manager Pam Tait, who organized the drive. "The students really pulled through in a 10-day drive and we're loading up all of this!"

There were boxes and boxes of food, clothing, medicine, water, and shoes to help the people whose towns were devastated by the Super Typhoon.
"It's a team effort with maintenance helping us, along with Edward—our contact from outside—and everyone else getting the word out and that's what made it so successful," says Tait. "It's wonderful!"
Edward Pamintuan is a Filipino-American attorney here in San Diego, who decided to reach out to the three San Diego law schools for assistance in collecting items for the Philippines.

"When I got in contact with Pam and the rest of the staff at California Western, they just sprang into action and were able to get us 16 boxes of donations," Pamintuan says. "I'm very grateful to California Western for doing such a great job for this relief effort."
"I think it's a good cause for the needs of the people over there," according to Trevor Young of Facilities as he loads the boxes. "Pretty amazing!"
"This is great," says Bert Aquino, another San Diego attorney who is helping with the relief effort. "On behalf of the Filipino people I'd like to thank you guys for doing this. We really do appreciate it. "