California Western Welcomes New Trustees; Board Commits $2 Million to Scholarships
Experienced San Diego attorneys bring new perspectives to law school's governing board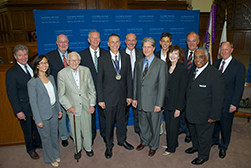 California Western Trustees
June 2013
SAN DIEGO, September 30, 2013 - The Board of Trustees of California Western School of Law welcomed three new members and committed $2 million to student scholarships at their September meeting, bringing new perspectives to its leadership team while honoring the school's longstanding commitment to helping students prepare for careers in law.
San Diego attorneys Imran M. Jaswal, Robert D. Richley, and Eberhard H. Röhm bring a wealth of legal and management experience to the law school's governing body, according to Jeffrey D. Lewin '75, a founder and shareholder with Sullivan Hill Lewin Rez & Engel, and the newly elected chair of the Board of Trustees.
"All law schools now face serious challenges which require imaginative solutions," says Lewin.
"With a new President and Dean, substantial financial reserves, an outstanding faculty, and a committed and energized Board, California Western is well positioned to meet these challenges. We are extremely fortunate to be in a position to award scholarships of this magnitude and to attract trustees of this caliber."
The September meeting marked a meaningful transition in leadership of the governing board. Lewin succeeds Kenneth L. Greenman '71, who stepped down after 13 years of service as chair.
National, international legal and management experience
Jaswal received his Bachelor of Laws and Postgraduate Diploma in Legal Practice in the United Kingdom, where he is admitted as Solicitor (non-practicing) of the Supreme Court of England and Wales. Following his tenure at Huron Legal as a senior manager, Jaswal co-founded Tregin Solutions, a management consulting firm that specializes in assisting legal departments of Fortune 500 companies with strategy, operations and technology assessments and implementations.
An attorney specializing in business restructures, Richley served as chief executive officer or a member of the leadership team for numerous national and international companies including Occidental Petroleum, First Chicago Corporation, and First National Bank of San Diego; and has served on numerous national boards. He holds a J.D. from Indiana University, Indianapolis School of Law.
A partner with Duane Morris in San Diego, Röhm focuses on international transactional law in Germany and other European Union countries, including corporate and real estate mergers and acquisitions, restructuring, and security offers. He previously led the U.S. legal practice for the Ernst & Young global network, and serves as a mediator for the International Chamber of Commerce. A native of Munich, Germany, Röhm holds law degrees from Fordham University in New York, the University of Heidelberg, and the University of Bonn.
Focus on Student Scholarships
As part of its $2 million commitment to funding student scholarships, the Board of Trustees set aside $100,000 for the Murray L. Galinson Memorial Scholarship, recognizing the longtime professor and trustee who passed away in 2012. The scholarship assists incoming students who have distinguished themselves academically while overcoming significant obstacles to pursue their passion for the law.
California Western awards scholarships to admitted and continuing students based on a variety of criteria including academic merit, skill level, diversity, cultural background, life experience and need. All admitted students are reviewed for scholarship eligibility, and awards range from 10 percent up to full-tuition.