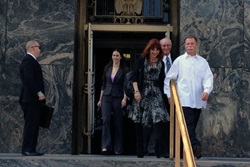 Daniel Larsen walks out of a U.S. Courthouse in March 2013 after his immediate release from prison was ordered
California Innocence Project Client's 2010 Conviction Reversal Affirmed
After 3 years of waiting, 9th Circuit Court of Appeals agrees upon Daniel Larsen's innocence
SAN DIEGO, September 16, 2013 - In a hearing that took place three years after his original conviction was overturned, the Ninth Circuit Court of Appeals today affirmed the innocence of Daniel Larsen. A client of the California Innocence Project at California Western School of Law, Larsen was released from prison earlier this year after spending more than 13 years behind bars for a crime he didn't commit.
"The Court of Appeals affirmed that Larsen is innocent, and that his conviction only happened because his trial attorney failed to investigate his claim of innocence," said Larsen's attorney and California Western professor Jan Stiglitz. "The Court agreed that the continued incarceration of an innocent man is a 'fundamental miscarriage of justice' which must be rectified."
Daniel Larsen
In 1999, Daniel "Danny" Larsen was convicted of possession of a concealed weapon after two police officers testified they saw Larsen toss a knife under a nearby car in the parking lot of a bar. Larsen's trial attorney failed to discover as many as nine percipient witnesses to the "knife toss," including a former Chief of Police from North Carolina, who saw another man toss the knife. None of the witnesses were called to testify at Larsen's original trial and, as a result, he was convicted and sentenced to 27 years-to-life in prison pursuant to California's Three Strikes Law.
After the California Innocence Project agreed to take on Larsen's case, it collected statements from many of the witnesses and presented the evidence to the courts. In June 2010, a federal judge reversed Larsen's conviction, finding him innocent and finding that his constitutional rights had been violated. Larsen remained in prison for almost three additional years because the California Attorney General claims that he did not present proof he was innocent quickly enough—a legal technicality that could have kept him in prison for life.