Access to Justice Leader Inspires California Western at Sunset Diversity Reception
It was an evening to celebrate leadership and to be inspired by how the legal profession provides access to justice for unrepresented people.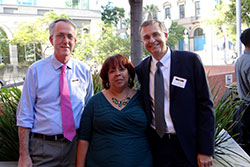 Fred Rooney, Consultant, Access to Law Initiative; Hon. Fern A. Fisher; Dean Niels B. Schaumann
View Photo Gallery
The Hon. Fern Fisher, Deputy Chief Administrative Judge for the New York City Courts, was the keynote speaker Wednesday, Sept. 18, at the Sunset Diversity Reception in the Castetter Courtyard at California Western School of Law. Faculty, staff, students, and alumni attended the signature event highlighting the school's welcoming and diverse community.

"She was enlightening, passionate and inspiring," according to Marion Cloete, California Western's Director for Diversity Services.

Fisher is also the Director of New York State's Access to Justice Program and she praises the efforts both in New York and here in San Diego to ensure that unrepresented people can have equal access to legal services. California Western's Access to Law Initiative (ALI) is a pioneering program that provides free and low-cost legal services to people in the San Diego community who lack access to legal services.

"California Western has enjoyed a transformative visit from Judge Fisher that allows us to look at our own efforts in the context of access to justice," says Cloete. "We see how much we are contributing to this movement and Judge Fisher is challenging us to continue to measure what we are doing and inspiring our students and alumni to think about how the law can change people's lives."

The reception also honored a California Western student and alumnus for their leadership in promoting diversity.

3L Cindy Perez received of the Student Award for Diversity Leadership for her activity in the diversity program and the California Western community in ways that promote the goals of the program; and for serving as a good example of student leadership on campus and in the community.

Drew Lautemann '09 was recognized with the recipient of the Mentor Award for Diversity Leadership for assisting the community of California Western diversity students and graduates through his actions, advocacy, and leadership. Lautemann is the program manager for A.I.M. for Law - a weekly program that seeks to inspire and motivate college students from under-represented or economically disadvantaged backgrounds to pursue a legal education through mentorship and exposure to the legal profession. A.I.M. is affiliated with both UC San Diego and San Diego State University.

The Sunset Reception was the main highlight of Fisher's busy schedule during her visit to California Western. She also spoke to in two classrooms, including the innovative STEPPS program, which simulates a real-world law firm for law students and met with faculty and staff at a special breakfast on Wednesday morning.

3L Anthony Parker, Editor-in-Chief of the California Western International Law Journal, attended the breakfast with Fisher and was very impressed with her ideas about access to justice.

"It was great to hear how Judge Fisher draws on her own personal experience with the legal system when considering how to increase the community's access to justice," says Parker. "So often the legal community is focused on how to get attorneys more involved as a way to increase access for those unable to secure legal representation. Judge Fisher really focuses on the client, and the obstacles they face, as a way to think outside of the box. She sets an outstanding example for future attorneys in her commitment to increasing access to those in our community that find themselves mired in a confusing, and often scary legal environment."

Fisher made no secret of the fact that she was impressed with the programs at California Western, and says in a way reminiscent of a certain movie action hero, "I'll be back."

She will once again receive a very warm welcome.