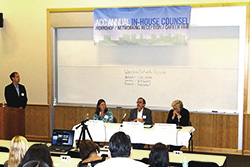 Panelists Jen Pacua of Qualcomm, Phil Rudolph of Jack in the Box, Darragh Davis of Petco

View Photo Gallery

Life as a Corporate Counsel: Adding Value to the Organization

The 2nd Annual ACC In-House Counsel Workshop, Networking Reception and Career Fair

SAN DIEGO, September 16, 2013 - "No billable hours and a better balance between your personal and private lives," are among the things Erik Greupner, San Diego Padres Vice-President and General Counsel, says he enjoys the most about working as an in-house counsel. He came to California Western School of Law on September 12 as the keynote speaker of the Second Annual In-House Counsel Workshop, Networking Reception and Career Fair – an event that attracted a large audience of law students and attorneys and was sponsored by the Association of Corporate Counsel (ACC), California Western School of Law, and Thomas Jefferson School of Law.

Greupner is optimistic. He says everyone in the audience has every reason to be optimistic as well, in spite of the down job market. "Be the best lawyer you can be and position yourself so you'll be ready when the jobs come back," he says. "Be strategic, determined and persistent."

Among the ways Greupner said you can do that is to try to work for a firm that represents a company you want to work for as general counsel, though it's good to start with a list of at least 10 companies. Then, he says you network and learn from people in these companies what you can do to prepare yourself to eventually work there. And finally, he says never, ever give up.

"I promise, if you don't give up you will find a position," Greupner says.

What are the best pathways to becoming a corporate attorney? What are the challenges and rewards of being an in-house counsel?

The event featured two panels of working attorneys from some of San Diego's top corporations, who shared their own stories and experiences.

Jen Pascua, a patent attorney at Qualcomm, followed Erik Greupner's prescribed pathway to her position. She became an associate for Knobbe Martens, the firm that represents Qualcomm and she got to do some work for them before the technology giant hired her. To be ready for those opportunities, she says, "Always do your best work."

Phil Rudolph is the Vice-President and lead corporate counsel at Jack in the Box, and he says that you have to "make the opportunities you can make," as Pascua did with Knobbe and Qualcomm.

Darragh Davis, the Vice-President and General Counsel at Petco, says "You have to be open to change and be ready for new opportunities when they present themselves."

"Be ready when the door opens," says Shaka Johnson, a Senior Attorney at Sony Electronics. "Get background experience for the kind of business you're interested in."

Ab Jenkins, General Counsel at Cubic Transportation Systems, says that it's important in a corporate attorney position to add value to the organization. "Learn how to add to the company's bottom line. Add value and they will see you as a business partner," he says.

Joshua Pearson, the Assistant General Counsel at EDF Renewable Energy adds, "Be a partner, not a hurdle to the business. That's how you can add value."

Asked by a student if he missed working at a law firm, Pearson came out with a resounding "No!" as everyone laughed. "As a corporate attorney you will make less money until you get to the upper echelons – but that's the only drawback for me."

Erik Greupner agreed. "The reality is you will make less money – at least during the first part of your career."

From all of the collective wisdom the panelists dispensed, it's obvious that it helps to have a head for business in the corporate counsel world – and often that path can lead attorneys into business positions with their companies. All panelists agreed that often there are good business solutions to what appear to be legal problems.

"It's great to have an event like this in our house," said 1L Megan Newman at the networking and career fair that following the panel discussions. "It was really interesting to hear the strategic and tactical point of view the panelists talked about on how they got there."

'This is a great opportunity to network," said 1L Stuart Smith. "I've heard some great advice on careers."

"I love all the opportunities California Western is providing us for networking," said 1L Erica Torgerson. "I will really take advantage of this chance to network."

"I find this kind of opportunity encouraging," said 1L Grace Cara. "It's a great way to meet lawyers in an informal setting."

"Erik Greupner teaches us to be willful," added Newman. "I enjoyed his optimism."

Greupner and all the panelists seemed to be in harmony and singing the same tune on what it takes to succeed as a corporate counsel – and it sure sounded a lot like Journey's classic song "Don't Stop Believing."