California Western Professor Wins Dismissal of Charges Stemming from "Twerking" Video
Records of 31 high school students cleared after persistent appeals by attorney Ruth Hargrove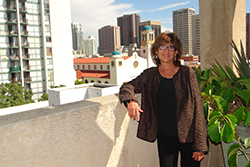 Professor Ruth M. Hargrove
SAN DIEGO, September 6, 2013 - The San Diego Unified School District yesterday agreed to expunge the records of 31 Scripps Ranch High School students, based on persistent appeals by Ruth M. Hargrove, attorney and professor at California Western School of Law. In April, the students were originally suspended and charged with sexual harassment for their role in a "twerking" dance video that was posted on YouTube. As part of the agreement, the district will erase any record of disciplinary action related to the incident.
"My clients have been given their lives back," said Hargrove. "Colleges have every right to be made aware of actual charges of sexual harassment when they occur. To have the slates wiped clean for these students reopens doors for them that were unfairly shut when the initial ruling took place."
Preparing Profession-Ready Graduates
Professor Hargrove's commitment to serving her clients—she offered to represent them pro bono—mirrors California Western's dedication to meeting the legal needs of the community. Students at California Western are trained by professors like Hargrove to produce successful outcomes for their clients, and are ready to practice law immediately upon graduation.
California Western's 30-year history of practical legal education allows the law school to more quickly adapt to the changing demands of prospective students and employers. The school is nationally recognized for its required second-year legal skills and professional responsibility class STEPPS—part of the school's sequential curriculum aimed at developing the skills and experience needed to provide meaningful legal work upon graduation—as well as its clinical programs including the California Innocence Project, Community Law Project, and New Media Rights.