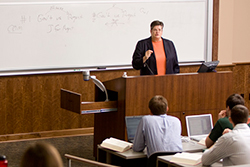 Professor Barbara J. Cox lectures to California Western students
California Western Elevates Focus on Research, Clinical, and Online Education
Faculty members named to leadership roles, distance learning program launched
SAN DIEGO, August 5, 2013 - Long recognized as an innovator in legal education, California Western School of Law combines traditional, theory-based learning with opportunities for practical experience. To further that effort, the law school today announced the appointment of Professor Barbara J. Cox as Associate Dean for Research and Faculty Development and Professor Linda H. Morton as Associate Dean for Experiential Education.
The implementation of positions furthering academic excellence and real-world learning is a testament to the law school's commitment to preparing profession-ready graduates with an unequalled breadth of knowledge and experience.
Cox will help faculty members develop and advance their research and publications as well as support advancements in teaching. Morton will coordinate and promote courses and programs that provide profession-ready education, in an effort to better integrate traditional classroom-based and clinical education.
"Professors Cox and Morton are nationally respected leaders in legal education and will help us become Southern California's leading school for practical legal training," said Dean Niels B. Schaumann.
Distance Learning Program Launched
California Western also recently launched a distance learning program under the leadership of new Assistant Dean Arnold Rosenberg. He will oversee the development of an online LL.M. program in Spanish and work with faculty members to develop other opportunities to expand access to legal education.
About Professor Cox
Cox holds the Clara Shortridge Foltz Professorship of Law at California Western and is a national authority on sexual orientation and the law, and women and the law. She has written numerous articles on interstate recognition of marriage and civil unions of same-sex couples. As a commissioner on the Madison Equal Opportunities Commission in Wisconsin, she helped draft one of the earliest domestic partnership ordinances in the country.
Cox is past chair of the Association of American Law Schools (AALS) Section on Women and the Law and the AALS Section on Gay and Lesbian Issues, and former deputy director of the AALS. She chairs the Board of Directors and the Executive Committee of the national Freedom to Marry organization, and served six years on ABA Accreditation Committee.
About Professor Morton
After several years of practice, Morton joined the faculty of California Western in 1989, where she helped found several pro bono and clinical programs. Her scholarship focuses primarily on interdisciplinary problem solving and legal education. She serves as faculty liaison and chair of the advisory board for California Western's Community Law Project Downtown/Lemon Grove and volunteers as a mediator/facilitator in the San Diego community.
In 2011, Morton received the Father Robert Drinan Award from the AALS in recognition of her deep commitment to pro bono work and leadership of pro bono efforts at California Western.
About Assistant Dean Rosenberg
Rosenberg served as Assistant Dean and Director of the Walter H. and Dorothy B. Diamond Graduate Program in International Tax and Financial Service at Thomas Jefferson School of Law. Before coming to the law school in 2002, Rosenberg practiced law for 25 years in Chicago, New York and San Francisco, where he was a partner for 12 years in the law firm of Bancroft, Avery & McAlister and spent four years as general counsel of a commercial bank.
Rosenberg has served as a member and chair of numerous regional and national committees, including as chair of the Section on Post-Graduate Legal Education of the AALS, chair of the State Bar of California Consumer Financial Services Committee, vice-chair of the ABA International Law Section Committee on International Commercial Transactions, and co-chair of the Mexican Bar Liaison Committee of the San Diego County Bar Association.