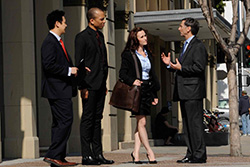 Dean Smith (right) chats with California Western students and staff
California Western Dean Emeritus Elected Board Chair of The San Diego Foundation
Steven R. Smith shares the law school's belief in the importance of community engagement
SAN DIEGO, July 26, 2013 - Steven R. Smith, Dean Emeritus and Professor at California Western School of Law was recently elected Chair of The San Diego Foundation's Board of Governors.
Guided by a deep belief in the importance of civic engagement, Smith joined The Foundation's Civil Society Working Group in 2001, serving as its chair from 2004-2009. Later, he served on the Executive, Audit and Our Greater San Diego Vision committees, and was chair of the Board Governance Committee from 2007-2013.
Smith stepped down as president and dean of California Western in 2012, after 16 years. Under his leadership, the law school established a joint master's degree in health law with UC San Diego, dual-degree programs with San Diego State University and UC San Diego, launched the California Innocence Project, and received state and national recognition for pro bono service. Smith is an active member of the Association of American Law Schools and the American Bar Association (ABA). He served as the ABA's vice chair and chair of the Section of Legal Education and Admissions to the Bar from 2003-2006.
About The San Diego Foundation
Founded in 1975, The San Diego Foundation's purpose is to promote and increase effective and responsible charitable giving. The Foundation manages more than $622 million in assets, almost half of which reside in permanent endowment funds that extend the impact of today's gifts to future generations. Since its inception, The Foundation has granted more than $829 million to the San Diego region's nonprofit community. For additional information, please visit The San Diego Foundation at www.sdfoundation.org.