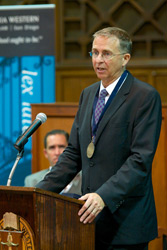 President and Dean Niels B. Schaumann addresses faculty, staff, trustees, and family during his installation ceremony on Friday, June 28
California Western Formally Installs Niels B. Schaumann as President and Dean
Visionary dean resolute in mission to prepare practice-ready graduates
SAN DIEGO, July 3, 2013 - Niels B. Schaumann was formally installed as the ninth President and Dean of California Western School of Law on Friday, June 28 at a ceremony attended by faculty, staff, trustees, and his family. It is the tradition of the law school to formally install the new dean several months into their tenure. Schaumann began as president and dean in August 2012.
In his remarks, Schaumann addressed the challenges facing legal education nationally and highlighted the opportunities ahead for a law school to meet the demands of the legal industry by partnering with them to produce graduates ready to practice law. He asserted that California Western is that law school.
"I envision a law school where each item of the curriculum has been vetted by a team of faculty and practitioners," said Schaumann. "Our graduates will be able immediately to perform many basic legal tasks without supervision, and consequently they will find jobs. That's why they come to us, and that's what we will help them accomplish."
California Western's 30-year history of practical legal education and close ties to the San Diego bench and bar will help the independent law school more quickly adapt to the changing demands of prospective students and employers. The school is nationally recognized for its required second-year legal skills and professional responsibility class STEPPS—part of the school's sequential curriculum aimed at developing the skills and experience needed to provide meaningful legal work upon graduation—as well as its clinical programs including the California Innocence Project, Community Law Project, and New Media Rights.
Representatives of the Board of Trustees, faculty, students, and alumni delivered formal remarks including the Hon. Judith L. Haller '75, a member of the Board of Trustees; Professor Susan A. Channick; SBA Vice President Priscilla A. Salgado; Alumni Association Board of Directors President and San Diego Deputy District Attorney Christopher M. Lawson '05; Board of Trustees Chairman Kenneth L. Greenman '71; and Jeffrey D. Lewin '75, a member of the Board of Trustees and partner with Sullivan Hill Lewin Rez & Engel. Eric S. Janus, Dean of William Mitchell College of Law in St. Paul, Minn., traveled to San Diego to congratulate his friend and former faculty colleague.
About Dean Schaumann
Prior to his appointment as President and Dean of California Western in August 2012, Niels B. Schaumann served as a professor and Vice Dean for Faculty at William Mitchell College of Law in St. Paul, Minn.
He is an expert in copyright law and federal securities regulation, and has taught courses in copyright law, computer law, comparative and international intellectual property, agency, partnership, corporations, securities regulation, and corporate finance. He is a frequent speaker on topics of copyright law and securities law, and has often served as an expert witness in copyright and securities cases.