California Western Attorneys Complete Innocence March, Deliver Clemency Petitions
Productive meeting with gubernatorial staff follows rally at the State Capitol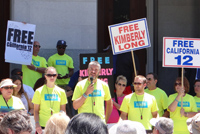 California Innocence Project Director Justin Brooks (center) and attorneys Michael Semanchik and Alissa Bjerkhoel on the steps of the State Capitol to protest the incarceration of 12 innocent clients
SAN DIEGO - Professor Justin Brooks and California Innocence Project attorneys Alissa Bjerkhoel '08 and Michael Semanchik '10 completed the 712-mile Innocence March with a rally on the steps of the California State Capitol on Thursday, June 20.
Following the rally attended by more than 100 supporters, attorneys from the California Innocence Project met with a staff delegation from the office of Governor Jerry Brown to discuss clemency for "The California 12" men and women who remain in prison despite compelling evidence of innocence. The Innocence March called attention to these cases of wrongful conviction and contributing causes such as flawed eyewitness identification and faulty science.
Although the governor's staff did not indicate whether Brown would grant clemency to the members of the California 12, Brooks called the one-hour discussion productive and engaging.
"The governor's staff was receptive to our presentation and interested in the stories of our clients," said Brooks. "We thank them for their time and welcome any questions they might have about these or other cases."
Earlier that day, a three-judge panel of the U.S. District Court ordered Governor Brown to immediately release 10,000 California inmates as part of a court-ordered plan to ease overcrowding in state prisons. Brooks offered the California 12 for consideration.
"California has been ordered by the courts to reduce its prison population. Why not begin with those we know are innocent," asked Brooks.