Judge Reverses 2002 Rape Conviction of Nationally-Recruited High School Football Star
Evidence that original accuser fabricated testimony presented by California Innocence Project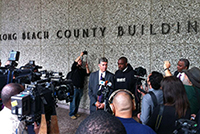 California Innocence Project client Brian Banks exonerated in
Long Beach
LONG BEACH, Calif. - May 24, 2012 - Judge Mark C. Kim of the Los Angeles Superior Court ruled today to exonerate Brian Banks, 26, who was wrongly convicted of the rape and kidnapping of a high school acquaintance following a consensual encounter on the campus of Long Beach Polytechnic High School in 2002.
"There are no words in any language, no gesture in any culture that can explain or describe what I have been through," said an emotional Banks, moments after his case's dismissal. "I hope my story brings light to a major flaw in the judicial system. It is time for wrongful convictions to be addressed in the United States."
Background on Brian Banks Case
Widely regarded as one of the nation's top high school recruits at the age of 17 - with a scholarship lined up to play football for the University of Southern California - Banks' dream of playing professionally ended in tragedy.
When Banks was accused of the rape and kidnapping of Wanetta Gibson in 2002, it was Banks' word against hers - and she was not likely to change her story. Gibson sued the Long Beach Unified School District, claiming that the school's lax security provided an unsafe environment that led to the fraudulent rape. She would eventually receive a settlement of $1.5 million.
Banks was faced with an impossible decision at the time - to either fight the charges and risk spending 41 years-to-life in prison, or accept a plea deal. Although it would mean destroying his chance to go to college and play football, a lengthy probationary period, and a lifetime as a registered sex offender, Banks chose the lesser of two evils and pleaded no contest to the charges.
Nearly a decade after his conviction, Gibson recanted her statements and has acknowledged that she fabricated the whole story. In its first post-release case, the California Innocence Project presented evidence of Banks' innocence to the original trial judge, and opened the doors for Brian to regain his freedom and attempt a comeback on the gridiron he once dominated.
Banks' attorney Justin Brooks, a professor at California Western School of Law and Director of the California Innocence Project proclaimed that "this is a great day for the justice system and for Brian Banks. Cases like Brian's are the reason I do the work I do. I am grateful to the Los Angeles District Attorney's office for reviewing the evidence and joining us in seeking to end this injustice."