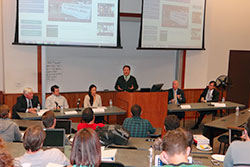 Professor James M. Cooper Hosts the International Career Panel
California Western Hosts International Career Panel
Helps students prepare to practice in the global economy
SAN DIEGO, November 12, 2013 - More and more lawyers are realizing that their practice deals with issues that transcend U.S. borders. To help California Western students prepare to meet that challenge, Career Services and the International Legal Studies Program brought together a panel of lawyers with vast international experience on November 12: "International Career Panel: Legal Practice in the Global Economy."
"International practice is increasingly a big part of the modern lawyer's life," says Professor James M. Cooper, Director of the International Legal Studies Program, who moderated the event.

"Language for me was the gateway to everything," says J. Anthony Girolami of the Girolami Legal Group. "This is a relationship business and if you apply your language tool to start that relationship, it's golden."
Girolami learned to speak fluent Spanish and later Portuguese and represents clients in the U.S., Mexico, and Brazil.
According to Raul Garza of Propcopio, Cory, Hargreaves and Savitch, who practices international tax law, "Not only are language skills important, but if you have experiences abroad your C.V. will stand out when you are applying for legal positions."
California Western alumna Adela Mason '09 is the director of the pro bono program at Casa Cornelia Law Center, and handles asylum cases for clients from all over the world. For her, the key to working with clients is learning a lot about the countries people are from so you can communicate and make them feel comfortable, she says. "You have to have compassion because of the situations you see. Some people are very sensitive because they have been tortured."
Richard Page of The Page Firm, an adjunct professor at California Western, echoes Mason in stressing the importance of understanding the culture of your clients.
"You have to have an accepting attitude about other cultures," Page says. "I have cross-cultural issues every day. You must adopt an attitude that is not condescending. If you treat everyone with respect, that's going to make all the difference."
Understanding cultures to deal with people in these countries is as important as language, says Antonio Maldonado of the Maldonado Law Group, who is licensed to practice in Mexico. "The more you learn about other cultures, the more successful you'll be."
"I think today's event shows the exciting possibilities that exist in San Diego and at the US.-Mexico border for our law students," says Cooper, who also directs the law school's Proyecto Acceso, a training program for judges and lawyers in Latin America.
Those students who attended are enthusiastic and see the pathways to international practice the panelists laid out.
"I came because I want to practice in Mexico and I thought it was very interesting," says 1L Elida Espinoza.
"It's really eye-opening to realize there's an entirely different system of law just 10 miles down the road," says 1L Alex Perez.
"It was very informative—I learned a lot," says 1L Alberto Aldrete. "It changed my perspective about being able to practice in another country."
"I have a definite interest in this international law field and it seemed like every person on the panel was very passionate and enthusiastic about what they do and that was nice to hear," says 1L Seve Gonzalez.
Get more information about California Western's International Legal Studies Program