Fundraising Tips
Need help reaching your fundraising goal? Check out these tips for some creative ideas on how to raise money for the cause!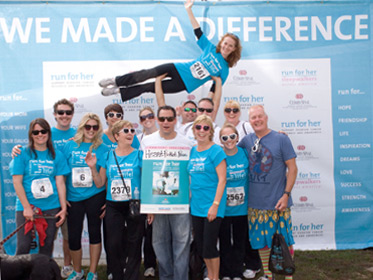 Engage Your Social Networks: Post or tweet your fundraising progress to your own followers and friends and utilize the events feature on Facebook to organize and promote your fundraising events. Don't forget to highlight your participation in run for her by liking us on Facebook and following us on Twitter.
Use Our Share Tools: Check out the run for her Share Tools that include run for her email signatures, eCards, flyers and much more to help you spread the word and garner support.
Matching Gifts: Ask your company if it has a matching gift program. You could double the impact of your personal donation!
Don't Forget to Write: Mail your fundraising appeal the old fashioned way! Make your mail stand out by sending it on teal paper and include a personal handwritten note.
Dedicate Your Special Occasion to 'Her': Are you getting married or have a birthday coming up? Consider asking your guests to make a donation to your team in lieu of a gift.
Set Goals: Set a team fundraising goal and ask team members to set personal fundraising goals as well.
Share the Alternatives: Ask someone who is unable to participate in person to sponsor you or join your team as a Sleepwalker.
Start a Friendly Competition: Speak with everyone in your office and get them to challenge each other to raise the highest amount. Give the "winner" a prize. Maybe some movie passes?
Easy Way to Raise $100: Ask 10 friends to donate $10 each. Put it into terms they relate to: that's only two drinks at Starbucks or one trip to the movies!