FREQUENTLY ASKED QUESTIONS
When is the race?
Sunday, October 14, 2018
Where does the race start?
The Community House
415 West 8th Street
Hinsdale, Illinois 60521
How can I register?
Click the REGISTER HERE button to the left! You can register in person at The Community House Saturday, October 13 from 9:00am - 2:00pm and Sunday before the events starting at 6:30am. Please note: October 13 and 14th registrations may not be chip timed!
Why should I run the Rotary Run Charity Classic?
This event supports the Rotary Club in it's international and local efforts, including these local non-profit organizations:

The Community House

D181 Foundation

Hinsdale Hospital Foundation

Rotary Charities

Ray Graham


How much does it cost to run the race?
February 15, 2018 through June 1, 2018: All events only $20, or $75 for a family
June 2, 2018, through October 1, 2018: All events only $25, or $90 for a family.

October 2, 2018 through race day: All event $30, or $100 for a family

October 12, 2018 at 4pm, online registration closes.

October 13, 2018 9:00AM - 2:00PM: On Site registration, Packet and T-Shirt Pick-up at The Community House, 415 West 8th Street, Hinsdale, IL 60521
The Birches Walk and Roll Pricing:
$20.00 (now through October 14)
How do I get my results?
If you are chip timed, there are two ways to find your results. 1) Check the Board at the conclusion of the race 2) Check the website for official results. Results are typically available about 3 hours after the event.
Where does all the money go?
All monies cover event expenses and proceeds support the Rotary Club and the charitable beneficiaries.
Can I get involved with the race without running?
Absolutely! You can make a donation that will go directly to supporting the non-profit charitable beneficiaries by clicking the GIVE box above.
Additionally, we need hundreds of volunteers to make the race happen. There are plenty of spots to volunteer on your own or as a group. Everyone gets a t-shirt, other fun perks and the glory of being a volunteer hero. Check out our Volunteer page.
Where do I park?
There is plenty of parking within several blocks of The Community House. Additional parking and a bus shuttle is available at the Hinsdale Central High School parking lot.
Are there maps of the race routes?
10K Run (USATF Course #: IL10123JW)

Rooney 5K Run (USATF Course #: IL11127JW)

Hinsdale Bank & Trust 3K Run


What happens if there is inclement weather?
The race will use a color coded event alert system. If dangerous weather conditions exist, the race will be stopped. Due to the nature of this fundraising event, refunds are not offered for cancelled events or events shortened by safety conditions.
Event Alert System
A color-coded Event Alert System (EAS) will communicate the status of course conditions to participants leading up to and on race day. The levels range from Low (green) to Moderate (yellow) to High (red) to Extreme (black) based primarily on the weather, as well as other conditions.
Email and website communication during race week will inform participants of the current Event Alert System status and provide preparation tips based on advance weather forecasts.
Updates will be available at t-shirt pickup on Saturday, October 15.
On race day, the current Event Alert System status will be communicated via public address announcements if there is any change from GREEN status
All participants should familiarize themselves with the Event Alert System prior to the race, remain alert for directions from race officials and announcers and take precautions to prepare properly for varying weather conditions on race day.
Event Alert System table: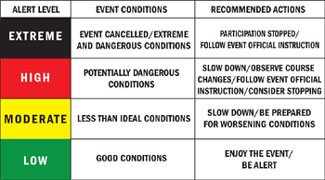 What is and is not allowed on the course?
The 10K and 5K runs do not allow bicycles, in-line skates, other wheeled vehicles (except wheelchairs and hand cranks) and dogs. Baby joggers and strollers are allowed in all events, but must line up at the back of the start line for the 10K and 5K runs.