Ovarian Cancer Awareness
What if you were experiencing symptoms of ovarian cancer? Would you know what to do? Would you know what to tell your mother, sister, or daughter to do?
Ovarian cancer is the deadliest of all women's cancers. There is no clinical screening for ovarian cancer. The majority of women diagnosed with the disease only live up to five years after their diagnosis. But if the cancer were detected early and treated, some of these women could have a chance to live a long, healthy life.
We know that the best way to improve health and save lives is by expanding ovarian cancer research, education and prevention. That is why all proceeds from Run for Her® support one of the nation's leaders in this effort: Cedars-Sinai's Women's Cancer Program at the Samuel Oschin Comprehensive Cancer Institute.
What Is Ovarian Cancer?
In the female body, two ovaries (each about an inch-and-a-half long) are located on the left and right sides of the uterus in the pelvic region. Ovaries produce hormones and hold egg cells, which can develop into a fetus when fertilized.
Many women are at risk for cancer based on their family history. Genetic screening can help determine if a woman is a carrier of a mutated (changed) gene and, therefore, at greater risk of developing the disease. Other factors that may increase risk include:
A family history of the disease, especially in a mother, daughter or sister
Family history of breast or colon cancer
Being a woman who has had breast or colon cancer
Being a women older than age 50
Never having had children
Having taken certain fertility drugs
Symptoms and Diagnosis
Often no symptoms are evident in the early stages of the disease. Ovarian cancer is not silent and does not have to be a killer. There are symptoms and they include:
Bloating
Pelvic or abdominal pain
Difficulty eating or feeling full quickly
Urinary symptoms (urgency or frequency)
See your doctor, preferably a gynecologist, if you have these symptoms more than 12 times during the course of one month and if the symptoms are new or unusual for you.
Read Dr. Beth Karlan's WebMD interview for 10 cancer symptoms women shouldn't ignore »
What to Expect at the Doctor's Office
A comprehensive medical history should be taken and a physical exam (including a pelvic examination) performed. Other tests may include a Pap smear, transvaginal sonography, or a CA-125 blood test. If cancer is suspected, ask to see a gynecologic oncologist who specializes in treating women's cancers.
The Statistics
More than 230,000 women are diagnosed with ovarian cancer worldwide each year, and approximately 140,000 women will die from the disease. There is no screening or early detection test available for ovarian cancer. When diagnosed early, the five-year survival rate is almost 95 percent, but only 15 percent of ovarian cancer cases are diagnosed early.
Treatment
The treatment of ovarian cancer depends on a number of factors, including the stage of the disease and the woman's age and general health. A gynecologic oncologist can help determine the optimal treatment plan. Because treatment decisions are complex, more than one doctor's advice can be helpful.
Ovarian cancer treatment possibilities are:
Surgery to remove the uterus, both ovaries, and the fallopian tubes
Chemotherapy (anti-cancer drugs)
Radiation therapy (also called radiotherapy)
When talking about choices, the patient may also want to ask about taking part in a research study or clinical trial. These scientific studies are designed to find new and better ways to treat cancer.
Spread Awareness
Click the image below to download an ovarian cancer awareness card to share with friends and family.
Anyone Can Help!
Research holds the keys to unlock the many mysteries about ovarian cancer. You can help us do that whether or not you have been impacted by the disease.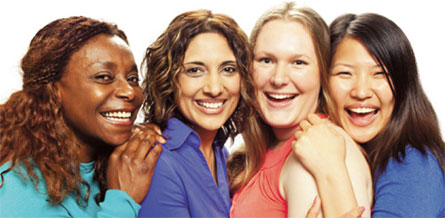 Join Research for Her™! All women, regardless of their personal or family cancer history, can help make a difference in the fight against women's cancers by joining the Research for Her registry at Cedars-Sinai. Learn more by visiting cedars-sinai.edu/researchforher.
Source for statistics: World Cancer Research Fund International. www.wcrf.org accessed August 2015.