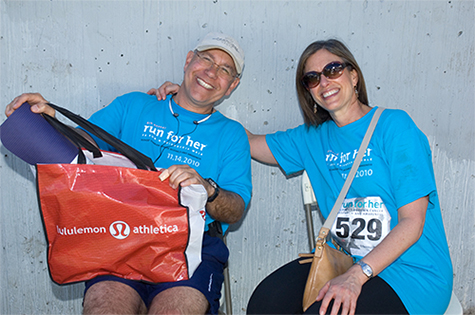 Dr. Karlan's Challenge to You
One of greatest moments of each run for her® is seeing 5,000 people gathered at Pan Pacific Park to help end the scourge of ovarian cancer. This year,we had even more people gathered in cities across the country and around the world participating as Sleepwalkers. The outcome was awe-inspiring.
You are an important part of this effort, and without this would not be one of the world's most successful ovarian cancer events.Every step you take on race day moves us closer to better treatments, improved screening, and even a cure.
As we approach race day I'd like to ask you to take one extra step to help me in the fight against ovarian cancer. Would you join me and commit to raise $100 by race day? A few phone calls or emails to friends and family is all it takes to raise $100. We're very close to a record year for run For her®, and your help might just put us over the top. I hope you will ask friends and family to support your efforts. Together, we will make 2012 is the most successful run for her® ever.
Thank you for all that you are doing – you have my personal commitment that we will continue together until we can someday end cancer as a threat…for all women.