Event Information
Event Info:

Run, Walk, or Mutt Strut through the historic streets of Hinsdale and beautiful surrounding neighborhoods. Your registration fee includes: moisture wicking technical t-shirt, chip timing (if registered before Sunday, October 14), entertainment, kids activities, complimentary food and drinks, the D181 mascot race, awards ceremony, and more. The Rotary Run Charity Classic will be held rain or shine-sorry, there are no refunds of the event is cancelled due to dangerous weather conditions.


Join the fun by clicking the Register Here button to the left!

February 15, 2018 through June 1, 2018: All events only $20, or $75 for a family

June 2, 2018, through October 1, 2018: All events only $25, or $90 for a family.

October 2, 2018 through race day: All event $30, or $100 for a family

October 12, 2018 at 4pm, online registration closes.
October 13, 2018 7:30AM - 2:00PM: On Site registration, Packet and T-Shirt Pick-up at The Community House, 415 West 8th Street, Hinsdale, IL 60521

SUNDAY, OCTOBER 14, 2018

6:30 AM: Registration. There will be no chip timing for Sunday registrants and registration fees are NOT higher on Sunday.
8:30 AM: Morgan Stanley 10K Run
8:45 AM: Rooney 5K Run
8:50 AM: Hinsdale Bank & Trust 3K Run
8:55 AM: Molex 5K Walk
9:00 AM: Mutt Strut
9:30 AM: The Birches 100 Meter Walk 'n Roll



T-SHIRT, BIB AND CHIP PICK UP

All advanced registrants are guaranteed a race technical t-shirt. Register online by September 22, 2018 and receive a personalized bib with your number and name. After September 22nd, all registered runners will get a regular race bib.

WEATHER CONDITIONS The race will use a color coded event alert system. If dangerous weather conditions exist, the race will be stopped. Due to the nature of this fundraising event, refunds are not offered for cancelled events or events shortened by safety conditions.
Event Alert System
Current Alert Level is YELLOW
The course will be wet, please use caution. A color-coded Event Alert System (EAS) will communicate the status of course conditions to participants leading up to and on race day. The levels range from Low (green) to Moderate (yellow) to High (red) to Extreme (black) based primarily on the weather, as well as other conditions.
-Email and website communication during race week will inform participants of the current Event Alert System status and provide preparation tips based on advance weather forecasts.
-Updates will be available at t-shirt pickup on Saturday, October 13.
On race day, the current Event Alert System status will be communicated via public address announcements if there is any change from GREEN status.
All participants should familiarize themselves with the Event Alert System prior to the race, remain alert for directions from race officials and announcers and take precautions to prepare properly for varying weather conditions on race day.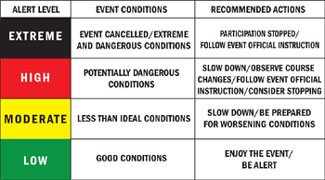 Event Location:
The race starts and ends at The Community House.

The Community House
415 West 8th Street
Hinsdale
Illinois


Event Schedule:
| | |
| --- | --- |
| Morgan Stanley 10K Run | 10/14/2018 8:30 am - 12:00 pm |
| Rooney 5K Run | 10/14/2018 8:45 am - 12:00 pm |
| Hinsdale Bank and Trust 3K Run | 10/14/2018 8:50 am - 12:00 pm |
| Molex 5K Walk | 10/14/2018 8:55 am - 12:00 pm |
| Mutt Strut | 10/14/2018 9:00 am - 12:00 pm |
| The Birches 100 Meter Walk 'n Roll | 10/14/2018 9:30 am - 12:00 pm |
Fees:
All Events: Family Registration (4 or more participants): $75.00
Fee is per family of 4 or more valid until June 1, 2018


All Events: Individual Registration (3 or less participants): $20.00
Fee is per person


Additional Family Member: No Fees
This is for adding additional family members to your Family Registration